ironSource ULRD in Google Data Studio
Overview
Learn how to analyse your ironSource ULRD in Google Data Studio
This Google Data Studio Dashboard template will demonstrate how you can analyze your ironSource Ad Revenue data to better understand the performance of your ad placements and ad networks.
Here's a glimpse of what your Google Data Studio Dashboard view with your ironSource user-level revenue data could look like: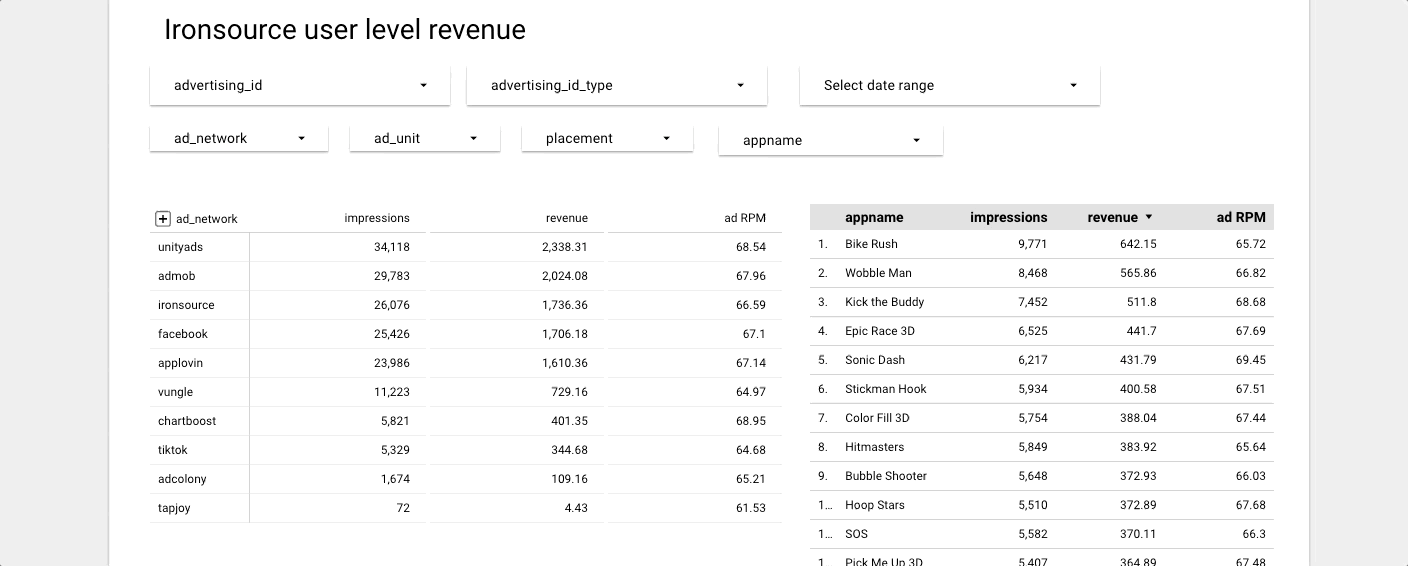 Feel free to click through pages 1-6 of this training to learn more.
Important Note: All our Paid trainings include SQL/dashboard/script for which access is only provided to customers who have a paid subscription to the service. You can get in touch with us if you would like to subscribe.
Summary
What you will learn
This training shows a Google Data Studio dashboard with 3 separate views to see your ironSource user-level revenue data (ULRD):
Impressions, revenue, ad RPM per ad network, ad unit, and placement (i.e the placement the user is related to as defined on the platform. Ex: home_screen)
App, ad network and placement ad RPM matrix view
Ad RPM for A/B tests
If you would like to learn how to analyze the associated data, then contact your Growth FullStack Account Manager. And if you are using Growth FullStack's Managed ETL services, you will be able to use these dashboard views as templates and personalize the analysis according to your needs.
Setup
This Google Data Studio dashboard will allow you to analyze your ironSource Ad Revenue data 
This dashboard is built on top of anonymized ironSource ULRD data, and is based on one ironSource revenue table that is composed of data from the Ad Revenue Measurement API and the Application API.
Customers who want to run their ETL can use this dashboard to understand the use cases of both datasets and spec out the view they want their data analysts to build.
Step-by-step guide on how you can set up your dashboard
Growth FullStack customers who want to use our managed ETL pipeline services can use this dashboard as a template. Follow the three simple steps below to get started:
Step 1: Connect to your Google Data Studio account. If you don't already have an account, you can create one here for free.
Step 2: View our anonymized template.
Step 3: Click on the icon that allows you to make a copy of the report inside the template. This will show you a pop-up.
Step 4: Select a data source. You will then be able to see 'view_ironsource_revenue' as a new data source. You need to be logged in with the Google account that has access to the dataset where the data was loaded. You can check if you have access by clicking here. This will allow you to see the template with your own metrics.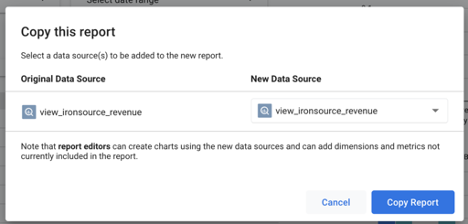 Resources
ironSource Ad Revenue Measurement API
How to
Get access to the anonymized template below:
  Ironsource ULRD Dashboard
Note: This template is available for a wide range of BI tools such as Looker, Metabase or Tableau. Feel free to get in touch with your Growth FullStack Account Manager for any additional details on the matter.
The dashboard has the following views:
View 1: Impressions, revenue, ad RPM per ad network, ad unit and placement
View 2: App, ad network and placement ad RPM matrix
View 3: Ad RPM for A/B tests
FAQ
 Can I personalize this dashboard?
Yes. You will be able to see the available fields and dimensions from the ironSource Ad Revenue API in the Calculated Fields section of Data Studio.
Here's a glimpse of the process:
Do you still have questions about the process?
No worries! Your Growth FullStack Account Manager is an expert on this process and can guide you from start to finish.
Feedback
Do you have any feedback for us?
We at Growth FullStack are always happy to receive your valuable feedback. Whether it's about requesting additional support on optimizing your workflows, building a customized dashboard, or anything else, feel free to reach out to us and let us know how we can support you further.
Iterate and Maintain
Iterate
This dashboard can be edited. Please read this information on Controls in Google Data Studio before using this dashboard.
Maintain
Please be aware that any updates to the ironSource API might break this template.